With this series of weekly updates, WOLA seeks to cover the most important developments at the U.S.-Mexico border. See past weekly updates here.
Due to upcoming staff field research travel, WOLA will not produce Border Updates on April 28 and May 5. Updates will resume on May 12.
This Week:
March data from U.S. Customs and Border Protection (CPB) found that migration at the U.S.-Mexico border increased by 23 percent over February. Some of the principal increases came from nationalities in South America and beyond the Western Hemisphere.
With the Title 42 order approaching a possible May 11 end, Mexican border cities are seeing increasing migrant arrivals and the Biden administration is preparing to roll out new restrictions on access to asylum at the border.
Details have yet to emerge about a two-month plan, agreed by the governments of the United States, Colombia, and Panama, to curtail migrant smuggling through the treacherous Darién Gap region.
The U.S. Congress held six committee hearings relevant to border issues this week, while Republican legislators conveyed plans to impeach Department of Homeland Security (DHS) Secretary Alejandro Mayorkas over the situation at the border. The House Judiciary Committee passed a hard-line border and migration bill that may not even have enough Republican votes to pass the House, much less the Democratic-majority Senate.
Migrant encounters rise 23 percent from February to March
U.S. Customs and Border Protection (CBP) released data on April 17 about its "encounters" (regular apprehensions and Title 42 expulsions) with undocumented migrants at the U.S.-Mexico border during March 2023. It revealed that CBP and its Border Patrol component encountered migrants at the U.S.-Mexico border 23 percent more often in March than in February.
Combining migrants taken into Border Patrol custody between land ports of entry (POEs, or border crossings), with migrants who came to the POEs, CBP counted 191,900 encounters with migrants in March, up from 156,138 in February. "Of these," CBP reported, "single adult encounters increased by 19 percent compared to February, unaccompanied children increased 14 percent, and family unit individuals increased by 38 percent."
Migrants whom Border Patrol itself encountered, between the POEs, totaled 162,317, up 25 percent from 130,024 in February. CBP pointed out that, though this is an increase, the March total was 23 percent smaller than in March 2022 (211,181) and 4 percent smaller than March 2021 (169,216).
This was the first month-to-month increase in migration since December. In January, the Biden administration and Mexico's government expanded the number of nationalities whose citizens could be expelled into Mexico under the Title 42 pandemic authority; this caused a sharp drop in migration that month, which is now reversing.
U.S. border authorities used the Title 42 authority 87,661 times in March to expel migrants, usually into Mexico. That was the largest expulsion total, and the second-largest expulsion percentage (46 percent), since June 2022.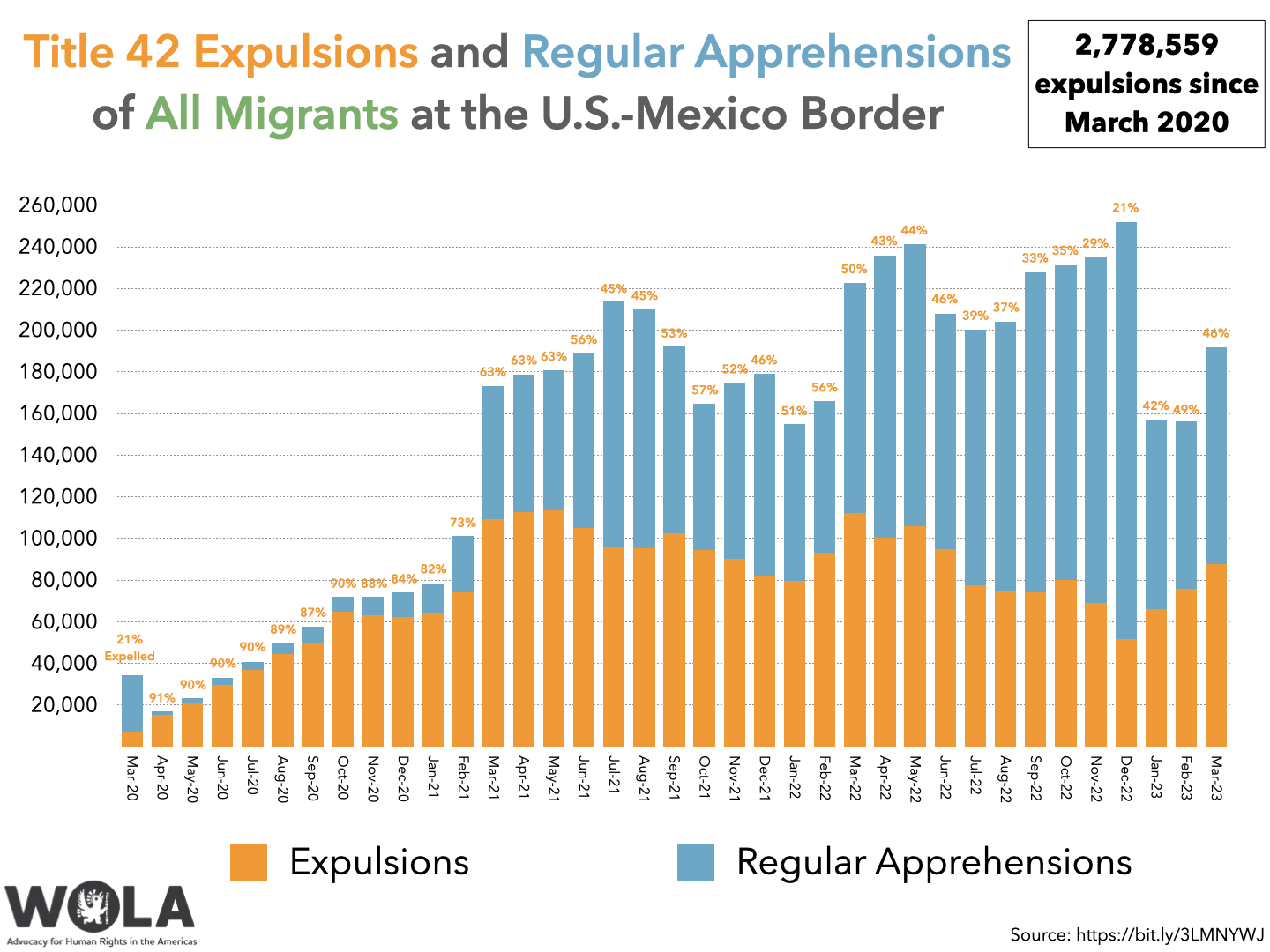 Much of the monthly increase owed to seasonal patterns, as March is usually a busier month at the border due to milder weather. The number of migrants increased for most nationalities from February to March, with Mexico, Colombia, India, Venezuela, and Peru all measuring increases of 2,500 or more.
For the first time, Colombia was the number two nationality of migrants encountered at the border. Citizens of Peru, who like Colombians are not subject to Title 42 expulsion into Mexico, rose to fifth place.
Merely because Title 42 gets applied to a nationality, however, does not necessarily cause its ranking to drop. Migration from Venezuela, whose citizens have been subject to expulsion into Mexico since October, increased 49 percent, and as noted in WOLA's April 14 Border Update, Venezuela was the number-two nationality of migrant apprehensions in Mexico in February and the number-one nationality of migrants in Panama's Darién Gap in March.
CBP measured by far the largest monthly number of migrants from India. The Arizona Daily Star reported that most Indians are coming to Arizona, citing Migration Policy Institute analyst Jeanne Batalova's observation that "some people who feel the most pressure to migrate are religious minorities, such as Muslims, Christians and low-caste Hindus as well as political activists or members of the LGBTQ community." On April 17, Guatemala expelled into Honduras 164 migrants from India, Pakistan, Sri Lanka, and Nepal.
Four countries outside the Western Hemisphere—China, India, Russia, and Turkey—all topped 1,000 migrant encounters for the third straight month. Arrivals from China have been increasing steadily. "The United Nations refugee agency counted 116,868 Chinese seeking asylum around the world at a point measured in mid-2022, up from 15,362 at the end of 2012," the year that Premier Xi Jinping took over, the Wall Street Journal reported. "The Chinese taking the Latin America route are generally those with low incomes, education levels and skills, who have little to no chance of securing a U.S. visa," according to the Journal, which observed that smugglers charge $7,000 to $10,000 to take a Chinese citizen through the risky Darién Gap route, and $60,000 or more for a safer aerial route to Mexico that involves bribes to Mexican customs officials.
Migrants from Russia, Haiti, Cuba, Venezuela, and Nicaragua are those who most frequently report at land-border ports of entry. All other nationalities—including those subject to Title 42 expulsion into Mexico—are more likely to turn themselves in to Border Patrol.
Most are arriving at the POEs after scheduling appointments to apply for asylum using a feature added to CBP's "CBP One" smartphone app in January (covered in several recent Border Updates). According to the Biden administration's latest court filing in Republican states' effort to preserve Title 42, March 2023 saw CBP grant the largest number yet of appointments for migrants to seek asylum at the POEs. It averaged 764 appointments per day, virtually all of them made via CBP One.
CBP reported that "over 74,000 individuals" have secured appointments with the app since its January 12 launch. Still, the rapidity with which each day's available appointments fill up—usually within a few minutes—indicates that 764 spots per day remain just a fraction of protection needs among migrants stranded in Mexican border cities.
CBP also reported that 27,783 Cubans, Haitians, Nicaraguans, and Venezuelans were granted humanitarian parole into the United States in March. This is occurring under a process, begun last October and expanded in January, allowing up to 30,000 people per month from those countries to apply online—provided they have valid passports and U.S.-based sponsors—and arrive by air.
For the sixth consecutive month, El Paso was first, among the nine sectors into which Border Patrol divides the border, in migrant encounters. The El Paso sector comprises far west Texas and New Mexico.
Administration prepares for possible end of Title 42
With the Title 42 authority approaching its probable May 11, 2023 end date, the Biden administration is preparing for likely further increases in migration. "The United Nations recently estimated that there are approximately 660,000 migrants currently in Mexico, including over 200,000 Haitian and Venezuelan nationals, in addition to 287,000 internally displaced Mexican nationals," Acting CBP Commissioner Troy Miller told the House Appropriations Homeland Security Subcommittee on April 19. "Many of these individuals could attempt to enter the United States in the near term."
In Ciudad Juárez, migrant shelters remain at capacity as new arrivals continue. "The numbers will only rise in the days to come," Javier Calvillo of the city's Casa del Migrante told the Dallas Morning News. "The next few weeks will be chaotic," added Enrique Valenzuela, who runs the Chihuahua state government's population office (COESPO). "There is pent-up frustration and nothing good comes out of that."
Ciudad Juárez shelters emptied at least momentarily around April 14, though, Border Report reported, as large numbers of migrants decided to attempt crossings, despite the odds of being expelled. The website's journalists noted several arrivals of large groups of asylum seekers crossing the narrow Rio Grande from Ciudad Juárez. They are doing so even though many are from nationalities currently being expelled back into Mexico under Title 42.
After Title 42's lifting, the Department of Homeland Security's (DHS) "encounter projections and planning models suggest that encounters could rise to 11,000-13,000 encounters per day" from a present level of about 6,000 per day, reads the Biden administration's proposed "asylum transit ban rule," discussed below and in recent Border Updates.
CBP's Miller told House appropriators that, in preparation, the administration has hired an additional 590 Border Patrol processing coordinators—non-law enforcement personnel who handle migrant intakes and initial asylum processing—for a total of 1,100. "On top of that," he added, "we've increased our capacity across the Southwest border to over 6000 for holding capacity. And we will have an additional 2500 added to that in the near future."
As WOLA and others have noted, the Biden administration's main post-Title 42 strategy for lowering migration levels hinges on replacing the pandemic authority with new ways to limit access to asylum. The administration is finalizing the transit-ban rule that would presumptively deny asylum to migrants who passed through other countries en route to the U.S.-Mexico border, but did not seek asylum in those countries.
In addition, DHS is preparing to set up a large-scale "enhanced expedited removal" effort, which would require asylum seekers to defend their cases to asylum officers via telephone, from CBP's austere, jail-like holding facilities, within days of arriving in the United States. Acting Commissioner Miller said that CBP has "deployed 600-plus interview booths" within its holding facilities.
Clarity about the administration's post-Title 42 plans is otherwise largely lacking. "We'd like there to be more transparency with border communities, at all levels, to ensure that plans are incorporated into the community, and there's clear understanding of how they will work," Marisa Limón Garza, executive director of Las Americas Immigrant Advocacy Center in El Paso, told the Border Chronicle. "Right now, there's no clear information on what's going to happen on May 11 [when Title 42 ends], and it's less than a month away."
On April 20, the Washington Post reported that DHS Secretary Alejandro Mayorkas plans to announce more details about the Biden administration's preparations during the week of April 24. These may include a rollout of the transit ban ahead of Title 42's May 11 end date.
Darién Gap updates
As discussed in WOLA's April 14 Border Update, migration through Panama's treacherous Darién Gap region increased in March for the fifth straight month, following a sharp October-November decline after the Biden administration began applying Title 42 to Venezuelan citizens.
CNN, whose reporters traversed the entire 65-mile Darién route in February, recalled that "these months in the dry season are normally the slowest on the route, because the rivers are too low to ferry migrants on boats." As a result, this year's "huge uptick is raising fears of more record-breaking numbers ahead." The International Organization for Migration (IOM) noted, "According to Panamanian authorities, over 100,000 people have crossed the Darien, six times more than during the same period in 2022. If the trend continues, 2023 could see over 400,000 crossings."
As noted in WOLA's April 14 update, officials from the United States, Colombia, and Panama met on April 11 and committed "to carry out a two-month coordinated campaign" with three goals, including to somehow "end the illicit movement of people and goods through the Darién by both land and maritime corridors." (Representing the U.S. government at the meeting were DHS Secretary Alejandro Mayorkas, U.S. Southern Command Commander Gen. Laura Richardson, and USAID Administrator Samantha Power.)
The measures that the governments plan to take in the Darién region remain unclear. "When we gathered in Panama City, the focus was really to grapple with the problem set before us and to agree to how we are going to jointly address it," Katie Tobin, the National Security Council's "Senior Director for Transborder," told reporters on April 14. "We are in regular communication now with the two governments on the specifics of this campaign, which we will announce soon," Tobin added.
This new Darién Gap effort will apparently have a big law enforcement component in a region that currently has little or no presence of the Colombian or Panamanian governments. The U.S. government would provide the two countries' security forces with "planning and logistics support, transportation, support with information sharing and intel sharing" for their operations in the Darién region. "But a lot of the planning is still underway, and so we hopefully will have more to share in the future," Tobin emphasized.
The three countries' commitment "would include security coordination and cooperation, measures to combat disinformation spread by migrant smuggling networks, and measures to regulate migration at the Colombia-Panama border," reads an overview of the Darién situation from the independent research organization ACAPS. "However, there is no short-term plan to suggest that this objective will be achieved quickly."
A busy and fractious week in Congress
The week of April 17 saw a surge of border and migration-related activity in the U.S. Congress. Six relevant committee hearings took place in a 48-hour period:
As of this writing early on April 20, WOLA staff are still processing what was said in these hearings, some of which were held concurrently.
The Appropriations subcommittee hearings yielded some useful information about border trends and Biden administration spending plans:
CBP's Troy Miller referred to the administration's small proposed cuts to the agency's funding next year as "structural deficiencies due to timing and some other administrative concerns," and said he would work with Congress "to ensure that those structural deficiencies are corrected."
ICE's Tae Johnson said that, despite early March reports that the Biden administration was considering a return to family detention (see WOLA's March 10 Update), it now has "no plan to restart family detention in any way, shape or form."
According to the Washington Post, Johnson added that "ICE officials are so overloaded that the agency's New York office is scheduling appointments for immigrants to face civil removal proceedings into 2033."
The hearings involving Secretary Mayorkas, and the long Judiciary Committee markup, seemed to involve more partisan rhetoric than fresh insights. Rep. Mark Green (R-Tennessee), chairman of the House Homeland Security Committee, set the tone for his committee's April 19 hearing with Secretary Mayorkas, telling him, "You have not secured our borders—and Mr. Secretary, I believe you have done so intentionally."
Last week, at a meeting with ultraconservative donors, Rep. Green told of a "five phase plan" for impeaching Mayorkas for "dereliction of duty and his intentional destruction of our country through the open southern border." In Mayorkas's Senate Homeland Security appearance, Sen. Roger Marshall (R-Kansas) told the Secretary that he would seek to introduce an effective no-confidence vote "in the coming days."
The Republican legislators' central allegation is that Mayorkas lied during a 2022 congressional hearing appearance, when he said that the border is secure. Much of the back-and-forth in this week's hearings surrounded whether the U.S. government has "operational control" of the U.S.-Mexico border. The term, defined by the Secure Fence Act of 2006, refers to a state in which the border experiences zero undocumented border crossings or illicit drug smuggling events—an obviously unattainable standard.
"With respect to the definition of operational control, I do not use the definition that appears in the Secure Fence Act," Mayorkas told the House Homeland Security Committee. "And the Secure Fence Act provides statutorily that operational control is defined as preventing all unlawful entries into the United States. By that definition, no administration has ever had operational control."
As an impeachment proceeding would face certain failure in the Democratic-majority Senate, Mayorkas's job is safe. Republican legislators appear to be using the measure to keep their electoral base mobilized on border and migration issues.
The House Judiciary Committee meanwhile met on April 19 to "mark up" (amend and approve) one of the House Republican majority's flagship pieces of border and immigration legislation, the " Border Security and Enforcement Act of 2023."
Earlier in the year, House Republicans proved unable to put forward a hardline piece of legislation, proposed by Rep. Chip Roy (R-Texas), which would have put asylum out of reach for virtually all migrants at the U.S.-Mexico border. That proved too contentious for more moderate Republicans like Rep. Tony Gonzales (R-Texas), whose west Texas district includes the most U.S.-Mexico border miles. The lack of consensus, in a chamber where Republicans hold a four-seat majority over Democrats, kept that earlier bill from going through committee.
H.R. 2640 modifies the earlier bill and combines it with several other measures. "While it does not include verbatim Roy's legislation that sparked the initial controversy over asylum, it adopts its essence by largely choking off asylum at the US-Mexico border which is currently permitted under U.S. law," the Washington Post observed.
"This bill attempts to combine eight different bills, each one more cruel and heartless than the next, into one contradictory and overlapping mess," said Rep. Jerrold Nadler (R-New York), the Judiciary Committee's ranking Democrat. The American Immigration Council's Aaron Reichlin-Melnick published an overview of its provisions that concludes:
The bill, which would functionally end asylum as we know it, is poorly drafted. Its provisions often conflict, likely since it was produced by combining eight separate bills into one. It also imposes mandatory restrictions on asylum seekers that would be impossible to carry out without a major change in Mexico's willingness to accept migrants.
The bill would ban asylum for any migrant who crosses between ports of entry. It would codify a "transit ban" on asylum seekers who passed through third countries. It would revive the Trump-era "Remain in Mexico" program. It would eliminate asylum for people threatened by non-state actors or by government officials considered to be acting against those governments' stated policies. It would mandate long-term family detention, even in facilities not licensed to care for children. Unaccompanied children would no longer be automatically enrolled in asylum proceedings and would be placed in expedited removal. Anyone who overstays a U.S. visa for more than 10 days could spend up to six months in prison for their first offense. It would deeply curtail the presidential authority to offer humanitarian parole to migrants, which goes back to 1952.
This bill passed the Judiciary Committee after 11:00 PM on April 19 (too close to this Update's publication time to determine whether the draft bill's language changed significantly). It is far from clear, though, whether it can even pass the House with its super-slim Republican majority.
The House Homeland Security Committee, which includes relatively more moderate members like Rep. Gonzales and Rep. Carlos Gimenez (R-Florida), will soon consider a separate bill focused more on border security than migration. The Foreign Affairs Committee, too, may pass a bill by the end of next week.
If these bills reach the House floor, passage on a party-line vote—and even passage of amendments seeking to soften their harder-line provisions—is far from assured. The Washington Post reported: "As many as a dozen Republicans would vote against the bill in its current form if it makes it to the House floor, according to five people familiar with the dynamics."
And even if this bill passes, it would be all but dead in the Senate, where the Democratic Party holds a majority and 60 votes are needed to avoid a filibuster. "Republicans may well pass something in the end, but they are asking moderates to cast a difficult vote for a bill knowing it will never become law," wrote the Washington Post's Greg Sargent.
On April 18 one of the Senate Democrats' most active voices in favor of preserving asylum, Sen. Bob Menendez (D-New Jersey), published a white paper making a series of proposals that the Biden administration could enact through executive action, without having to pass legislation.
The "Menendez Plan" would expand humanitarian parole, visa programs, Temporary Protected Status, and other legal pathways to migration for Latin American citizens. It would increase funding for processing, asylum adjudication, transportation of migrants to interior destinations in the United States, access to counsel, and humanitarian and development programs in the hemisphere. And it would increase resources to combat migrant smuggling and human trafficking. While these elements align with migrant rights and asylum advocates' proposals, Menendez also calls for expanding expedited removal, and use of the controversial CBP One app, at the border.
Other news